Pee Safe distributes its Pollution Safe – Anti Pollution N95 Dust Masks among traffic police officers in Gurgaon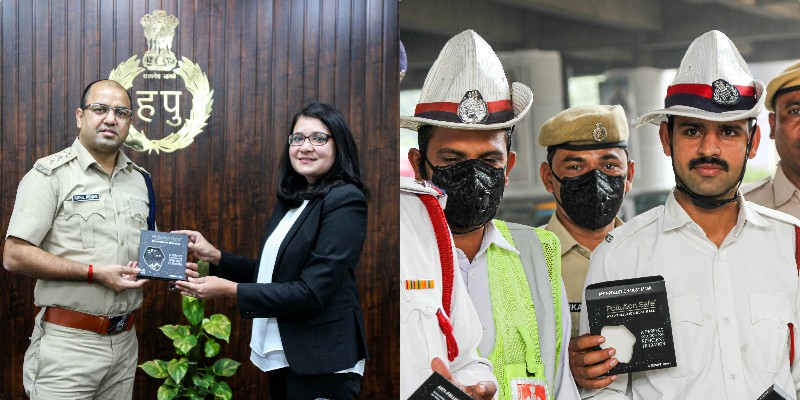 Pee Safe distributes its Pollution Safe – Anti Pollution N95 Dust Masks among traffic police officers in Gurgaon
The initiative is part of Pee Safe's anti-pollution drive and the masks help filter out about 95% of the toxins in air
Gurgaon, November 1, 2019: As part of its campaign against pollution, Pee Safe, a leading hygiene and wellness brand handed over Pollution Safe – Anti-Pollution Masks to Sh Akhil Kumar, ACP Traffic Police in Gurgaon. The company also gave out pollution masks to the officers on duty at the most polluted traffic police booths in the area.
The air quality in Delhi and surrounding areas has been hovering between the 'very poor' and 'severe' category post Diwali and the overall air quality index (AQI) has crossed the 400 mark. Unfavorable meteorological conditions such as low wind speed and crop burning in nearby states are making the conditions worse leading to breathing problems and other health issues in many. Through this initiative, Pee Safe aims to further its vision of ensuring good health for all.
Speaking about this, Ms Pragya Upadhyay, Vice-President (Growth), Pee Safe, said, "With the air quality index at an all-time high in most Indian cities, there has also been a rise in the incidence of serious respiratory issues such as asthma. Traffic personnel are more at risk given that they are outdoors for most part of the day and inhale vehicular emissions apart from dust and other particles. Pee Safe has always aimed at solving an existing issue and offering sustainable solutions. The distribution of these anti-pollution masks was an effort in this direction and aimed at helping the servicemen of the country. Our masks are of premium quality with an N95 filter and help in blocking toxins in the air."
In his statement Sh Himanshu Garg, DCP Traffic Police, Gurgaon said, ''We are thankful to Pee Safe for having taken the initiative of distributing the Pollution Safe – Anti-Pollution masks to traffic staff. It is a fact that they stay outdoors for a long duration, even during the festive season and therefore are more vulnerable to the harmful effects of air pollution. We appreciate the sensitivity shown by PeeSafe for our men on ground and wish them all the best in their future initiatives.''
As per studies, wearing a particle-filtering mask can reduce the short-term exposure effects on the heart and blood vessels.[1] Pee Safe's Pollution Safe Anti-Pollution Dust Mask helps filter out 95% of the toxins present in the air. Some other key features of this mask include perfect facial fit with earloops; and valves that help in easy breathing and reduce buildup of heat and humidity. The mask filters out dust, microorganisms, and other micro pollutants effectively.
Pee Safe is helping India fight health issues brought on by unhygienic conditions. In the last 30 months, it has disrupted the women's hygiene products' segment by introducing environment friendly products. The brand started with the Toilet Seat Sanitizer category that became a bestseller followed by other products addressing feminine and personal hygiene. Today, Pee Safe is a preferred choice amongst its customer base.
Pee Safe recently raised INR 30 crore in Series A funding led by Alkemi Growth Capital, a health and wellness focused fund. Apart from the flagship product, Pee Safe's offerings include eco-friendly Sanitary Pads, Organic Cotton Tampons, Menstrual Cups, Panty Liners, Breast Pads, Natural Intimate Washes, Wipes and Sweat Pads for both men and women, and Pollution Safe Anti-Pollution Dust Masks. Pee Safe products are currently available in modern trade, general stores, airports and organized stores across 40+ cities. Digitally they can be found on https://www.peesafe.com/ and across leading e- commerce platforms such as Amazon, Nykaa, and Flipkart.
About Pee Safe
 Pee Safe, India's leading personal hygiene brand, is helping fight health issues brought on by unhygienic conditions in washrooms and incomplete personal hygiene. The brand's flagship product, Pee Safe Toilet Seat Spray Sanitizer, is the world's highest selling in the category. The brand today offers the widest range of hygiene products for women and men including natural intimate wash and wipes, aloe vera infused panty liners, menstrual cups, disposable underarms sweat pads, breast pads for lactating women and feminine cramp relief roll on, Palm Safe and Moskito Safe. Pee Safe has witnessed an unprecedented growth of 200% in FY18 and has recently roped in leading TV actress Anita Hassanandani as its brand ambassador.