Shower curtains have several purposes. Generally, they are used to increase shower privacy and stop water and moisture from escaping the shower space. However, they are also useful for maintaining your bathroom's aesthetic appeal. They also make the space look larger. Nowadays, shower curtains come in various varieties and designs. They act more like decor for your bathroom in a fashionable way. Here, let's look at 7 beautiful shower curtain ideas to incorporate into your bathroom.
Basic White Curtains
White complements all interiors, whether they are dark or light. Solid neutral curtains also have the same aesthetic effect. Especially white linens add a classic look to your bathroom. With a scented candle and essential oil, this curtain can give you the perfect spa vibes.
Clear Shower Curtains
Clear shower curtains are another ideal design that fits any bathroom. Moreover, they are made from odourless, non-toxic, and soft Ethylene Vinyl Acetate. This material is typically used to create eco-friendly shower curtain designs. The clear shower curtains are perfect if you want a spotless bathroom. This is because it doesn't get wet with water. Therefore, the bathroom floors continue to be dry. Additionally, the clear shower curtain keeps itself fresh and clean for a very long time. Also, water can be quickly wiped from these curtains.
Sheer Shower Curtains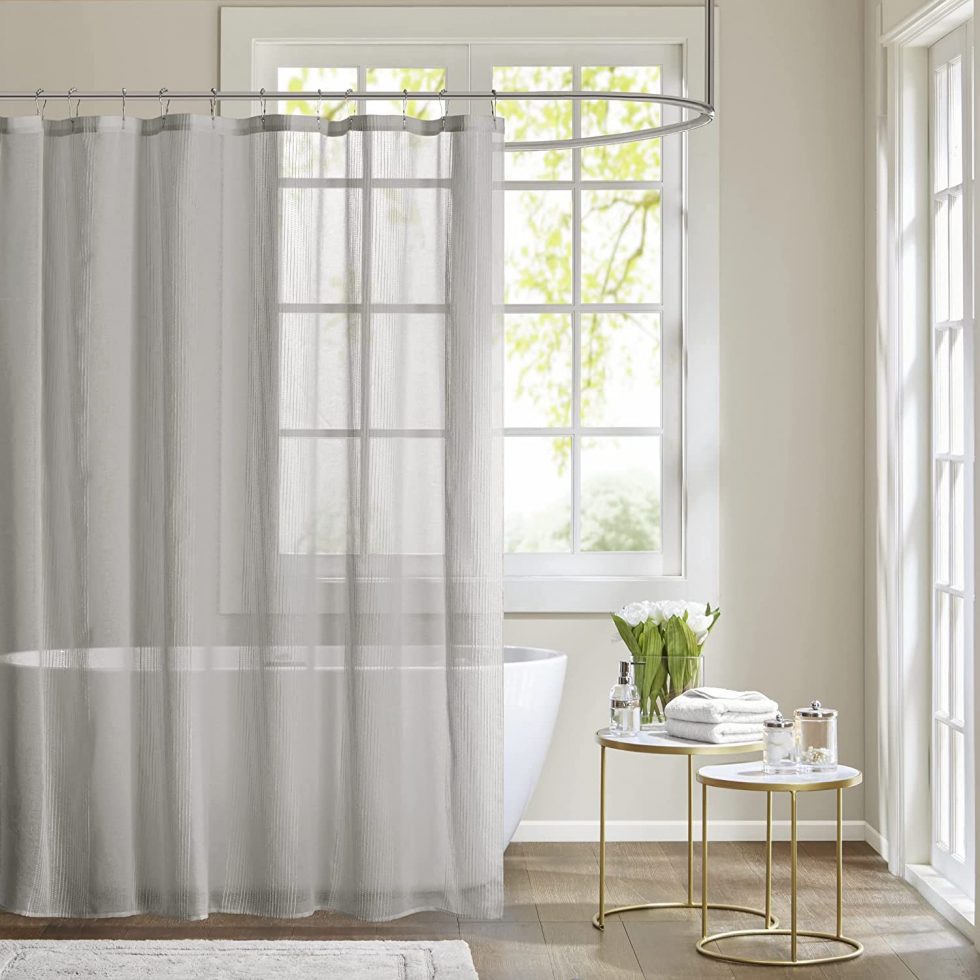 Sheer curtains are somewhat similar to clear ones. The main difference is, sheer curtains have an opaque or translucent finish. They also add an elegant and glamorous look to your bathroom. It makes room for enough light and provides privacy. Also, they come in various patterns like florals and grids.
Plastic Shower Curtains
Not all of us have time to clean and dry our curtains often. If that's the case with you, then go for plastic curtains. This look might slightly be outdated, but still, it is chosen by many. This is mainly because they are easy to use and are also inexpensive. Additionally, they also come in various colours and designs. The typical transparent ones are perfect for any bathroom. If you don't want to spend much money and time thinking about the ideal designs, then this is a must-buy.
Lace Shower Curtains
White lace shower curtains are classics. They add a sense of charm and a vintage look to your bathroom. It looks gorgeous in white and neutral-coloured bathrooms. It keeps your privacy with subtle grace. Additionally, it also retains the light that you require for bathing and grooming. Lace curtains are the simplest way to give a romantic touch to your shower.
Decorative Curtains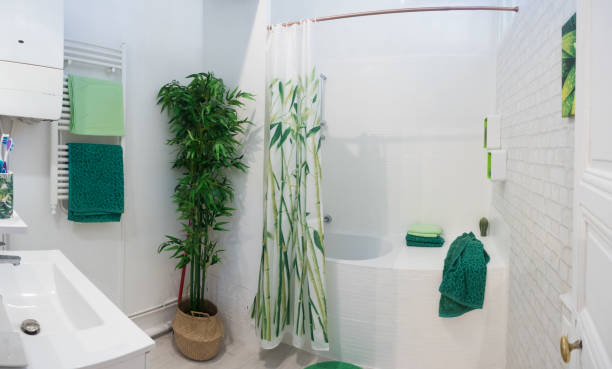 Colourful shower curtains add aesthetics to your bathroom. Also, it should be chosen with care. Otherwise, it can also diminish the appearance of your bathroom. For example, if your bathroom is decorated in white and neutral colours, then you can add various vivid colours to it. But if you already have a colour scheme then please stick to it. You can experiment with abstracts, stripes, multicolours, and polka dots. If you want to experiment more with patterns and colours then go for motif designs. You can also pick a motif shower curtain for a more bohemian look.
Hemp Curtains
Hemp curtains are naturally made from hemp fibres. They are environment-friendly options to use in your bathroom. Also, hemp does not release any harmful gases like PVC and vinyl. Furthermore, it provides a rustic touch to your shower. Despite having a natural and basic appearance, hemp curtains let light through and give the room an illuminated appearance. Additionally, it is also very easy to clean.
Here are a few additional tips to consider. While selecting shower curtains try to choose more solid colours than patterns and prints. This will prevent overdecoration and give a minimalistic look to your bathroom. If you want to choose patterns then make sure it gels with the colour hues in your bathroom. Also, consider your tile colour while selecting shower curtains. You can also add tiebacks to your curtains for a beautiful finish.
We will be delighted to have your thoughts and feedback. Please write to us at [email protected]
Follow Life and Trendz on Instagram: https://www.instagram.com/lifeandtrendz_com/
Facebook: https://www.facebook.com/lifeandtrendz
Twitter: https://twitter.com/LifeandTrendz