There is nothing more luxurious and glamorous than a chandelier. A simple chandelier in your living room or dining room will definitely lift up the whole mood. It will definitely add glitter to your space. Chandeliers need not always be in ornate designs. In the current market, they come in a wide range of designs, shapes, and sizes. All of them, like the classic chandelier design, can steal your breath away. Furthermore, simple shapes, such as cubes and spheres, have evolved into remarkable works of lighting art. Here, we shall witness a few such unique designs. Read the article further to explore some simple chandelier designs that you can go for.
Crystal Chandeliers
Crystal chandeliers are great options if you have a huge living room. This gives a luxurious ambiance to the whole space. A material called lead oxide is often used to construct these chandeliers. Thus it is more bright and prismatic. It also adds a dramatic statement to any interior setting. Nowadays crystal chandeliers come in different trendy designs. The modern crystal chandeliers with tiny light bulbs are extraordinarily scenic.
You may also like: 7 Beautiful Shower Curtains to Incorporate in Your Bathroom 
Square LED Chandeliers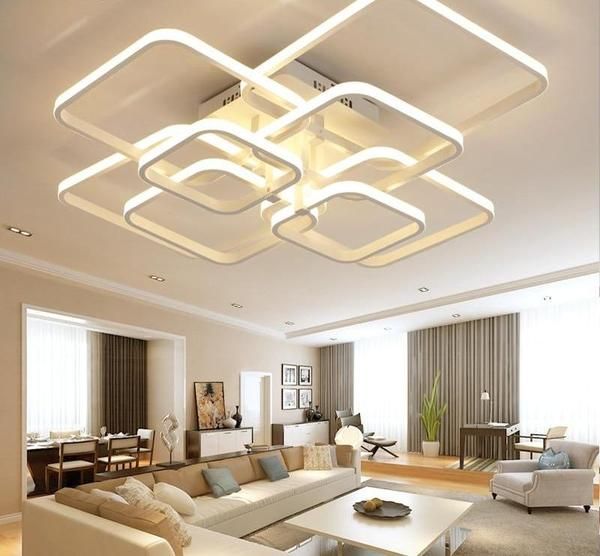 These are a type of modern chandeliers that are mounted to the ceiling. This LED chandelier often comes in square, diamond, and rectangular shapes. They mostly have an aluminum or stainless steel framework. Thus they give a bright and attractive look to your living room. Smaller versions of these LED chandeliers are also preferred in dining rooms and bedrooms.
Flush Mount LEDs
These too are mounted on the top ceiling surface. They are ideal for rooms with low ceilings or small spaces. Flush mount chandeliers bring beauty to the area while also providing a lot of light. Nowadays energy-saving LED chandeliers are also available. Placing them needs basic architectural knowledge. Here, the diameter and the size of your room and the height of the ceiling often play a major role.
Pendant Lights
Pendant lights are single suspenders or drop lights that can replace classic chandeliers. Though they might look like normal fancy light bulbs, they are chandeliers too. Thus if you are looking for a simple one with a minimalistic design, then this is yours. With proper lighting and architectural knowledge, these budget-friendly chandeliers can add great elegance to your space.
Simple Globe Chandeliers
A Globe Chandelier can never go wrong. These simple and attractive globe designs offer a vivid look to your living or dining space. Furthermore. these globe lights are placed on chandeliers as well as on floor lamps. Whatever it is, they give a unique touch. A simple globe chandelier is so elegant and thus is most preferred for industrial as well as domestic use.
Sputnik Chandeliers
The Sputnik chandelier was inspired by the satellite of the same name. It was a trend in home decor during the 1960s. Their central core encircled by several arms with light bulbs distinguishes this whole light piece. These numerous arm bulbs will give dazzling illumination to your living space. Also, at present, sputnik chandeliers are designed in a trendy way to fit small and simple spaces. Thus it is a must-try lighting piece that you should go for.
We will be delighted to have your thoughts and feedback. Please write to us at [email protected]
Follow Life and Trendz on Instagram: https://instagram.com/lifeandtrendz?igshid=Yzg5MTU1MDY=
Facebook: https://www.facebook.com/lifeandtrendz
Twitter: https://twitter.com/LifeandTrendz