Could you believe Valentine's Day is quickly approaching? There is no better moment than the present to come up with ideas for love-themed photographs. With a tonne of different Valentine's Day photo suggestions, we've got you covered, whether you want to take romantic photos in the studio, cosy ones at home, or fun outdoor ones. Depending on your preferences, you might decide to include some fun pictures of kids, a cute baby, or a cat or dog in your Valentine's Day photo shoot. In the end, the Valentine's Day photoshoot hopes to emphasize the love between the couple. So, let's look at some of the best Valentine's Day photoshoot ideas that we think you should consider.
Top Valentine's Day Photoshoot Ideas:
Dress Up for Valentine's Day
If you want to be creative, wear a pink shirt, hat, or sweater while taking your Valentine's Day pictures. Styling the part in Valentine-themed attire can add a subtle but endearing touch to the photos. Anyone participating in the photo shoot can get into the Valentine's Day mood by dressing in a Valentine-themed outfit. If you want to make it look special and memorable, dress the whole family in pink, including the kids and the pets.
You may also like: Top 7 Valentine's Day Cake Ideas 
Recreate and Save Your First Date
Your first date is probably the one romantic stepping stone that you have a particularly lovely memory of. The first date you went on with your partner is probably not something you have many photos of. Let's fix that. Recreate and capture the moment that sent shivers down your spine on your very first date for your Valentine's Day photoshoot. Your first date may have been made memorable by humorous incidents or visual images (such as a particular brand of coffee). Or witnessing your beloved wearing the same outfits from your first date. You can freeze your best times together in a photograph by paying attention to the small details. If you can't go to the same place, feel free to pick a different relationship turning point or location.
Take Inclusive Indoor Photos
Some couples fit the mould of the homebody. Do not fret. For the ideal indoor setting, there are many Valentine's Day photoshoot ideas. If an indoor shoot is your preference, it will help you become more comfortable dealing with the camera. You won't have to worry about preparing your scene outside. Make sure there are no interruptive elements in your background. Obtain the appropriate accessories to set the mood you want, and locate places with the best angle. It's a welcome change from your typical surroundings thanks to this photo shoot.
Have a Sunset Photoshoot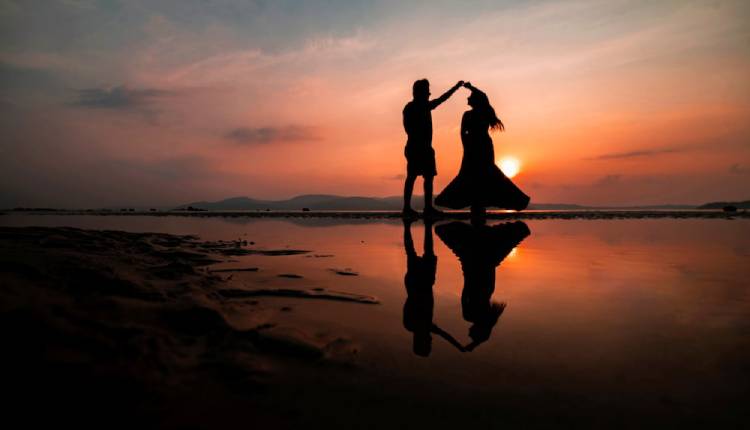 It's romantic and cosy during the "golden hour." You can decide to schedule a photo shoot for just before dusk. If you can accomplish this in a beautiful setting, extra points. Uninhabited streets, fields, as well as beaches, are all bathed in stunning golden hues. The absence of distractions is another benefit. Try experimenting with beautiful backlit subjects, silhouettes, as well as warm skin tones. Utilize manual mode on your camera and position your subjects so that the sun is behind them to create a design. Try taking close-up portraits with side lighting for dramatic effects. If you're not a photographer, just show this to the person taking your photo, and they'll know.
Arrange for a Boudoir Photoshoot
The best way to learn to feel comfortable in your own skin is through boudoir photography. Boudoir photography necessitates a personal and sensual setting. This perfectly clicks the sentiment of Valentine's Day. Try different soft lighting setups, love-themed props, and backdrop props. With practice and patience, you can create a photo shoot that perfectly captures your individual spirit.
Take photos of yourself doing your favourite activity
You need to be joyful in order to take amazing candid photos. Take part in the activities that you and your partner enjoy doing together. List the hobbies that you enjoy doing together. You could go horseback riding, play a game, or have a picnic before dusk. Once you've selected the task, give it a Valentine's Day style. Ensure that each picture contains Valentine's Day-related elements. This could be a heart-shaped balloon, bokeh, or some other prop that holds special meaning for you. Trying to find romance wherever you go and telling your tale again will be a challenge with this concept.
We will be delighted to have your thoughts and feedback. Please write to us at [email protected]
Follow Life and Trendz on Instagram: https://instagram.com/lifeandtrendz?igshid=Yzg5MTU1MDY=
Facebook: https://www.facebook.com/lifeandtrendz
Twitter: https://twitter.com/LifeandTrendz