Situated above the sea level, Kolli Hills is an exhilarating hill station in Namkkal district of Tamil Nadu. This picturesque hill station will provide you with a wonderful landscape and bewitching atmosphere that will make you wonder at once. The route to Kolli hills will instill a thrilling experience and you have to travel through 70 hairpin bends to reach an outstanding hilltop of Kolli Hills. The flamboyant climate allures the visitors and it is believed to be the Paradise of Tamil Nadu. There is a saying that the Kolli Hills is assumed to be haunted and it is still a prevailing story due to its dense look. And some weird sounds in the air which will at times leave you with a spine-chilling feel. But it is not proved to be so and many say it is the superstitious belief of people. Yet many tourists visit this hill station with a passionate interest of prodding into it. This place has promising spots to visit from holy shrines to panoramic viewpoints. It will definitely provide refreshment with its bewildering ambience. Are you looking for some amazing places to visit in Kolli Hills?
Agaya Gangai Waterfalls:
This waterfalls being glided at a height of 300 feet, Agaya Gangai is one of the popular attractions in Kolli Hills. The speedy rhythm of water originates from Panchanathi, a forest stream. It is thus nestled in a canyon which is totally encircled by the mountains in all directions. And just have to walk 1000 steps to enjoy the complete view of the falls. This serves to be a popular trekking spot for all the passionate trekking souls.
Seekuparai: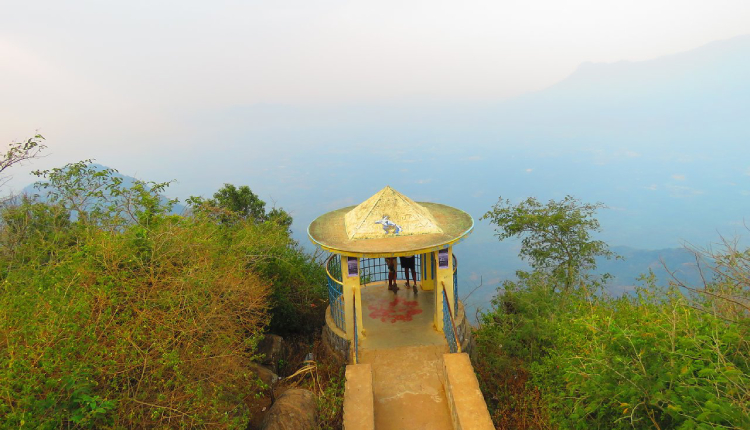 Seekuparai is a famous viewpoint in Kolli Hills. It was raised by the State Government to ensure tourism in Kollimalai. And on the way to this extraordinary viewpoint, you could find a park with serene surroundings. This particular breathtaking viewpoint makes the place an ideal one to be so. Locals call it Suicide Point, yet meditation and trekking are other popular activities carried out in Seekuparai.
You may also like: 5 Hidden Waterfalls in Goa to Explore
Selur Nadu:
Selur Nadu is one of the highest and famous viewpoints in Kollimalai. It is a place known for its historical importance and it is the place where King Paari once gave his royal chariot to aid a jasmine creeper to grow. The natural path leading to this viewpoint will immerse your soul with soothing and flourishing scenery. The trees being so lively and realistic with its silver oak, blooming tropical plants and blushing flowers, are an eye feast for all the souls. The visiting time here is 9 AM to 5 PM.
Tampcol Medicinal Farm:
You must visit this colourful spot which is incorporated with abundant medicinal plants. Tampcol Medicinal Farm is widely spread over a total area of 105 acres and is governed by the State Government of Tamil Nadu. The farm is a house of different types of medicinal shrubs, plants, and herbs which are used essentially in the production of Ayurvedic, Unani and Siddha products all over the country. You can buy herbal remedies for common diseases like cold and fever. You can only visit this vivid place between 8 AM to 7 PM.
Siddhar Caves:
One might really be excited to explore the caves and at the same time it might frighten you like hell because of the prevailing darkness at this place. But when you explore along with your partner or friend, it would be really an exciting one to do so. The Siddhar Caves in Kolli Hills is thousands of years old and was recognized as the home for many sadhus who really practiced traditional medicines. Only one or two people can explore the cave at a time. And you could also explore other caves nearby such as Bogar, Agastya and Korakka Siddha caves. You should tag along with your crazy people to enjoy trekking at Siddhar Caves.
Do visit South India's Kolli Hills for a more exciting and lifelong experience. Cherish the wonderful feeling when you are here at the pristine Hill Station!
We will be delighted to have your thoughts and feedback. Please write to us at [email protected]
Follow Life and Trendz on Instagram: https://instagram.com/lifeandtrendz?igshid=Yzg5MTU1MDY=
Facebook: https://www.facebook.com/lifeandtrendz
Twitter: https://twitter.com/LifeandTrendz