How about exploring ancient rock-cut caves?
Traverse to the ancient treasures of the world! Located near Aurangabad in the state of Maharashtra in India, Ajanta and Ellora caves are considered to be one of the finest examples of ancient rock-cut caves. Ajanta and Ellora caves are a concoction of Buddhist, Jain and Hindu monuments and also includes both the Buddhist monasteries and Hindu and Jain temples. The Ajanta caves are of twenty-nine in numbers and were built in the period between 2nd century BC and 6th century AD. And in case of Ellora caves, they are spread out as thirty-four in number and also date back the period of 6th and 11th century AD. They are designated as UNESCO World Heritage Sites and are popular among passionate travelers. One of the famous sites at this heritage walk of the rock-cut caves is the Kailash Temple, which is also known for its largest monolithic structure in the world. Ajanta and Ellora caves are adorned for its awe-inspiring sculptures, paintings and frescoes and also for its ancient Indian architecture.
Places to visit in Ajanta and Ellora Caves:
Kailashanatha Temple:
The Kailashanatha temple is otherwise known as Kailasha, which is known as the largest monolithic rock-cut structure in the world. It is located in the 16th cave of Ellora Caves in Aurangabad, Maharashtra. This is literally an eye feast to the visitors which is completely incorporated with amazing carvings and jaw-dropping architectures which will take you from wonder to resonance level. Wonderful ancient architectural model will amaze you and will be a perfect one for the history and architectural lovers. The temple is constructed in the 8th century under the guidance of Krishna I and is dedicated to Hindu deity, Lord Shiva. The temple will never cease from amazing the visitors and will instill the historical knowledge within the visitors for generations.
You may also like: Top Places to Visit in Horsley Hills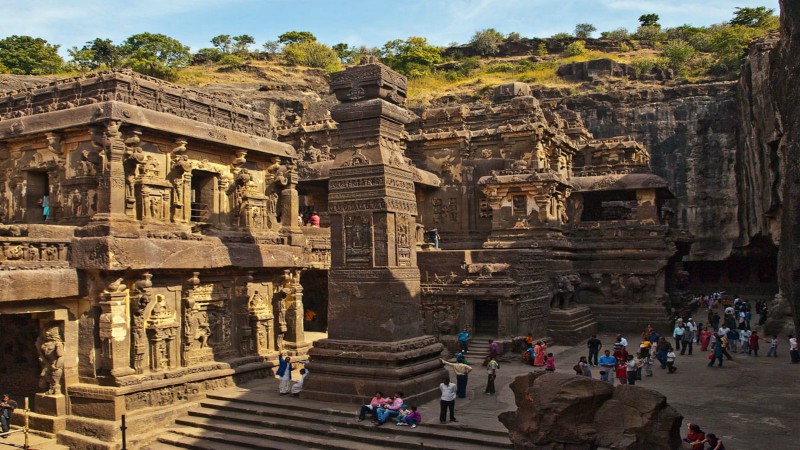 The Buddhist Caves:
There are twelve Buddhist Caves which are mostly viharas or monasteries. The mesmerizing paintings are awaiting to induce your soul with an aesthetic feel. The caves have several monasteries which are carved with paintings and excellent sculptures of Buddha, Bodhisattva, and Saints. This particular cave has been erected as a cathedral-like stupa hall which is known as chaityas and at the center of the cave is 15 feet high statue of Buddha. It has a pillared veranda which covers two shrines and a single cell.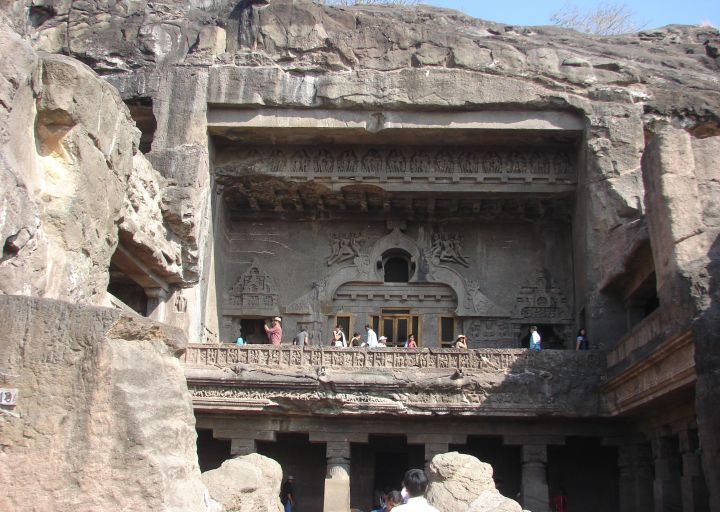 Ajanta Caves:
It invites you to the world of Jatakas. Ajanta Caves disclose Buddhist culture and their stories through various sculptures and paintings. By staring at the paintings and other well-sculpted sculptures, you will probably get to know about the history and other wonderful stories. The Ajanta caves are considered to be one of the most prestigious monuments of India. You must visit this place at least once in a lifetime as it is a reputable place in India.
Grishneshwar Temple:
Grishneshwar temple is known for its several other names such as Kusumeswarar, Ghushmeswara, Grushmeswarar, and Grishneswara. Encompassed by greenery, the temple is an ancient pilgrimage site. And this is where one of the twelve Jyotirlinga manifestations of Lord Shiva is found. Here is where you can witness many excellent and intellectual carvings and sublime sculptures of Indian Gods and Goddess.
It is worth dipping your soul in the historical pool of Ajanta and Ellora Caves of Maharashtra. Take a heritage walk ancient rock-cut caves of India!
We will be delighted to have your thoughts and feedback. Please write to us at [email protected]
Follow Life and Trendz on Instagram: https://www.instagram.com/lifeandtrendz_com/
Facebook: https://www.facebook.com/lifeandtrendz
Twitter: https://twitter.com/LifeandTrendz