The onset of the Holi season is already happening. Shopping is, of course, an essential part of it without which festivals become deficient. When it comes to shopping, purchasing traditional or ethnic wear are mandatory ones though. Even so, you are bringing back a heap of shopping bags, at least one among them would be a set of ethnic or traditional wear. The next stop would be an accessories shop that captivates you with affordable prices and multiple designs. Without accessories, women's outfit is incomplete as they need to pair them up with suitable ones. Wondering what goes well with your ethnic wear? Well, here are some accessories to help you with. Check out the accessories to pair up your ethnic attires for this Holi.
Big Jhumka Earrings:
Wishing for a complete ethnic look on this Diwali, go with big jhumka earrings. It pairs well with your beautiful traditional and ethnic attire. Moreover, it spotlights femininity. Earrings are one of the accessories which women wear every day as per their wishes in different designs and styles. When it comes to ethnic wear, big jhumka earrings are their true love. Passing through the accessories store with meticulously arranged shining big jhumkas is the hardest thing and so ladies, you end up there. Pick the one which suits you to flaunt this Holi season.
You may also like: 7 Must-have Outfits for this Holi: Women
Trendy Silver Choker:
Be it Kurtis or Sarees, the trendy sliver choker matches well. Like big jhumkas, a trendy silver choker tops the list of the girls' accessories list. Women's love for silver chokers is beyond price. It paints you with a vintage elegant look. Either oxidized silver choker or pure silver choker or gold-plated silver choker, it proffers the perfect festival transformation for this Holi. More to the delight, it could marvellously go well with Indo-western attire.
Simple and Stunning Layered Head Chain:
Purchased lehenga and wondering how to highlight your Holi look? Well, the head accessories match amazingly well with your vibrant lehenga. The simple and stunning head chain could do the wonders for your Holi look. A layered head chain could suit perfectly for your colourful lehenga set and so pick one to slay your festive season. This head chain provides the classic Indian touch along with a mix of femininity and glamour. The gleaming, layered head chain is a must-have accessory for this Holi.
Metal Bangle Set:
The bangles speak before you speak. Bangles are one of the essential accessories which could not be missed. Either the colourful glass bangles or vibrant metal bangle set enhances the traditional look every time you choose one of the choices. However, the metal bangle set goes well with sarees and lehengas. Pair it right for this Holi.
Silver or Gold-plated Bracelet Cuff Bangles: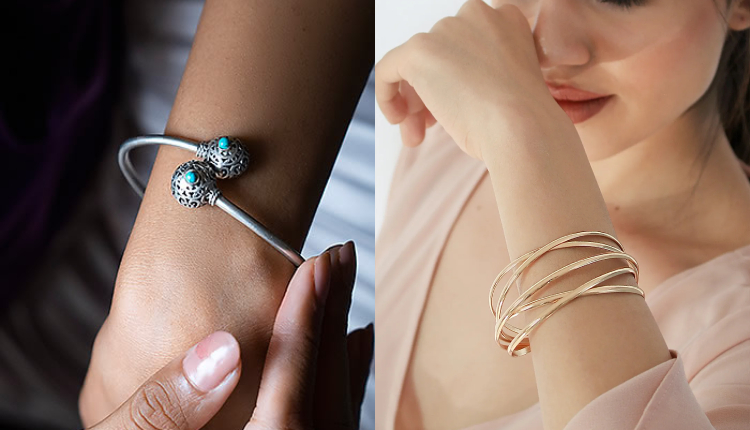 When metal bangles and glass bangles suit perfectly with traditional sarees and lehengas, silver or gold-plated bracelet cuff bangles match well with Kurtis or tops thereby providing an elegant festival look. If you missed it out while your purchase in the accessories store, order the suitable one online as there are ample options.
Captivating Dhokra Anklets:
Recently women are going crazy for anklets while the tradition of wearing it have been declining as they do not choose to wear it every day. Even if they could not wear it every day, they have some indescribable love for anklets which is understandable. And what's a festival without wearing lovely anklets? Here's is the trendy and captivating dhokra anklets which comes with multiple designs incorporated with brass, copper and even oxidized brass beads. It pairs perfectly with any attire and so your Holi is going to be a blast.
We will be delighted to have your thoughts and feedback. Please write to us at [email protected]
Follow Life and Trendz on Instagram: https://instagram.com/lifeandtrendz?igshid=Yzg5MTU1MDY=
Facebook: https://www.facebook.com/lifeandtrendz
Twitter: https://twitter.com/LifeandTrendz