Lassi is a popular traditional Indian drink that many people like. This Punjab-originated drink is most possibly one of the first-ever smoothies ever made. This drink has a creamy, tangy, as well as refreshing taste. Ingredients like yogurt, water, and spices are often used to make this refreshing drink. The drink also comes in many variations like sweet and salt. People also add cannabis to Lassi and have it as bhang. Lassi is commonly considered as a refreshing summer beverage. You can also customize it with other flavors and ingredients to make it even more delicious. Here, let's explore 5 such yummy lassi recipes that you can binge on.
5 Lassi Recipes
A traditional lassi recipe is a blend of water, yogurt, and spices like cumin or cardamom. It is often served in clay cups or kulhads. The sweet variation of lassi often tastes like a milkshake. Likewise, the salt version is equivalent to doogh.
Rose Lassi
Sweet lassi recipes often include fruit flavors like strawberry or other pleasant flavors like lemon or rosewater. Rose lassi is a fragrant and delicious variation of the traditional lassi that has rose syrup or rose water as its main ingredient. You can blend the yogurt, sugar, and water mixture with rose water to get this tasty drink. You can also add a pinch of saffron for additional flavor. This will also give a mild yellowish-orange hue to the drink. You can garnish it with edible rose petals and serve this chill.
You may also like: 5 Best Cocktails that make you high
Strawberry Lassi
Strawberry lassi is a sweet and tangy variation of the traditional lassi. For this lassi, blend yogurt water, sugar, and fresh or frozen strawberries to it. Make sure your yogurt is not sour as strawberries are already tangy. You can also use fresh cream for a creamy strawberry lassi. Furthermore, you can also add a pinch of cinnamon powder for additional flavor. Serve this chill with some ice cubes and garnish it with fresh strawberry slices. This strawberry yogurt delight is a perfect treat for your entire family.
Mango Lassi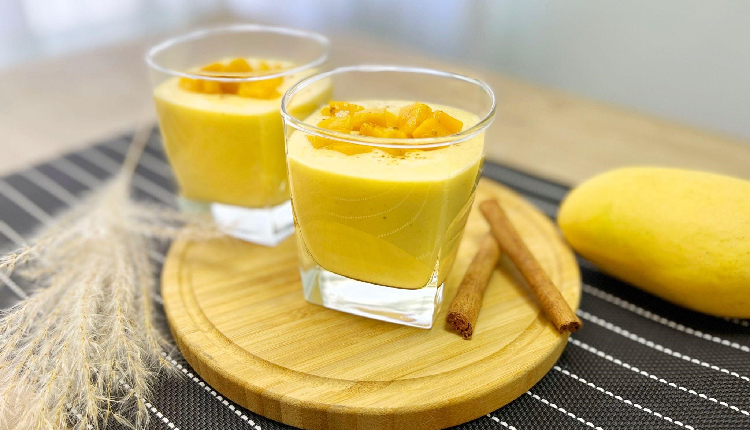 Mango lassi is a popular variation of the classic lassi that is made by adding ripe mango puree. It is also the most popular fruit variation of lassi. For this, make sure you take sweet, ripe, and fresh mango pulps. You can also go for canned mango pulps if you wish. Add it with sugar, water, and yogurt in a blender. For the final blend, add any flavoring agent like cardamom, rose water, or saffron. Finally, serve it chill with some mint leaves and fresh-cut mango slices. This drink is definitely a perfect burst of flavor.
Masala Lassi
Talking about flavors, no one can miss the classic masala lassi. This lassi is a unique savory variation of the traditional lassi. It is easily made with pantry ingredients like spices and herbs.
For masala lassi, blend yogurt, salt, water, ginger, roasted cumin powder with quite a few mint leaves, coriander, and black pepper (optional). Blend it smooth and creamy like a milkshake. You can also add a pinch of chaat masala for an extra kick of flavor. Make sure you serve this spicy drink chilled with ice cubes.
Peanut Butter Lassi
Peanut butter lassi is a unique and delicious variation of lassi. It is a protein-filled drink that tastes more like a smoothie. For this, blend peanut butter and yogurt with salt, sugar, water, ice cubes, and fresh cream (optional). You can also add a splash of vanilla extract for an additional flavor. Finally, serve it chill with a drizzle of peanut butter and chopped peanuts.
Lassi is a versatile drink that is perfect for this summer. It is a cool and relaxing drink that will keep you away from sunstrokes and nausea. Furthermore, it has beneficial bacteria and vital nutrients that will improve your gut health. Thus, try these five tasty lassi recipes as and when you can.
We will be delighted to have your thoughts and feedback. Please write to us at [email protected]
Follow Life and Trendz on Instagram: https://instagram.com/lifeandtrendz?igshid=Yzg5MTU1MDY=
Facebook: https://www.facebook.com/lifeandtrendz
Twitter: https://twitter.com/LifeandTrendz