Bollywood actress Parineeti Chopra and Politician Raghav Chadha are officially married in a dreamy wedding ceremony on Sunday. The couple shared a series of pictures from their beautiful wedding. The couple were engaged in May 2023, for which, cousin Priyanka Chopra was present. However, the dreamy nuptial took place in Udaipur among the presence of family and friends.
From exchanging garlands to walking down the aisle, the couple is exhilarated while the guests cheer them. Both Parineeti Chopra and Raghav Chadha exude ivory attires on their wedding day. The pictures display the celebration of their union and happiness they express. Meanwhile, the couple shared the picture on Monday and penned down, "From the very first chat at the breakfast table, our hearts knew. Been waiting for this day for a long time… So blessed to finally be Mr and Mrs! Couldn't have lived without each other… Our forever begins now…"
A Manish Malhotra Bride and Groom:
The newly-weds, Parineeti and Raghav, are seen flaunting ivory ensembles. The bride, Parineeti, opts for a glitzy, ivory lehenga for the dreamy nuptial. Her elongated veil includes Raghav's name in Devanagari script which is hand embroidered artistically, She pairs the wedding outfit with chunky emerald jewels. She also accessorizes it with pastel pink bangles, and traditional kaleera. The actress goes for a minimal makeup look as well. The groom, Raghav, on the other hand, compliments his bride, in ivory sherwani. He also accessorizes his outfit with white beaded neckpiece. They both flaunt a minimalistic and dreamy wedding look.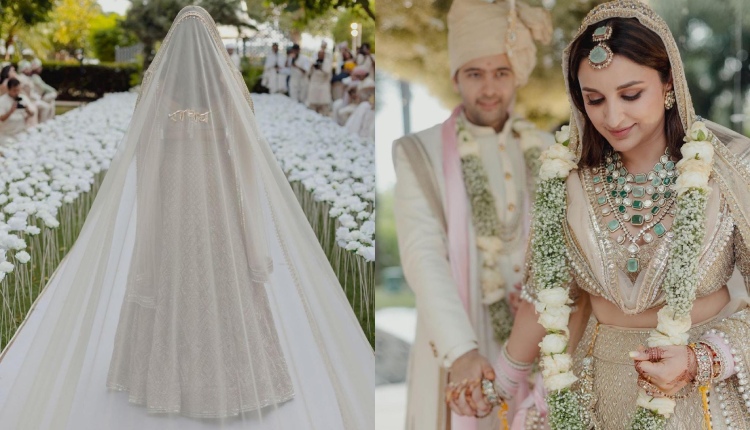 Their ensembles are from the prominent Indian Fashion Designer, Manish Malhotra. Not to mention, Parineeti's gorgeous emerald jewellery are also designed by Manish Malhotra, himself. Here's what he shared, "My dearest @parineetichopra and @raghavchadha88 many congratulations, lots of love and blessings. Parineeti from our discussions of all your outfits at my Atelier and Home… Our laughter and your love for tone on tone geometrical intricate art work to the emerald jewellery me sketching and designing for you… all loving memories for life… you bring joy and there is only and only love for you."
So, in Manish Malhotra's ensembles, Parineeti Chopra and Raghav Chadha tied knots on Sunday in a dreamy wedding ceremony. They are officially the cutest Mr & Mrs from now on. Congratulations to the love birds!
You may also like: How to Recreate Parineeti Chopra's Minimal Engagement Look?
We will be delighted to have your thoughts and feedback. Please write to us at [email protected]
Follow Life and Trendz on Instagram:https://www.instagram.com/lifeandtrendz/
Facebook: https://www.facebook.com/lifeandtrendz
Twitter: https://twitter.com/LifeandTrendz