Is LEO a Part of LCU (Lokesh Cinematic Universe)?
Debunking fans' theories and speculations about the wildly anticipated film of the year, Leo.
Lokesh Kanagaraj's forthcoming film, Leo, is a top-notch anticipated creation of this year. The film is all set to release tomorrow i.e. on 19th October 2023. The Pan-India film is releasing worldwide with the grand opening. Thalapathy Vijay-starrer Leo will be one of the significant films in the Indian Cinema. After the connection of Kaithi and Vikram, there is only one expectation from the fans even since the Leo project was announced. One of the most anticipated questions of the fans and movie fanatics, is — "Is Leo a part of LCU?" or "Is it any way connected to Karthi's Kaithi or Kamal Haasan's Vikram?" Let's elucidate what we expect from Leo with the speculations going on.
1. Sandy as Serial Killer: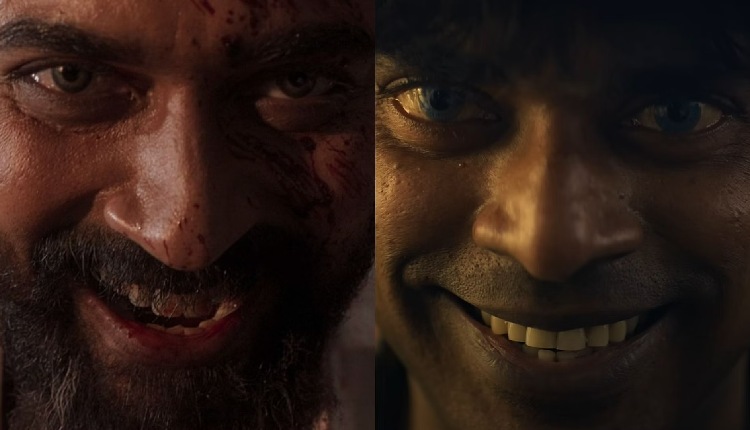 There is a fan theory spreading across that Sandy may be playing the younger version of Rolex (Played by Suriya in Vikram). With bloody face, evil face and monstrous eyes, both Sandy and Suriya look similar. But he locks horn and get smashed by Thalapathy as Parthi in Leo trailer. Though this does not work, there is a high chance that Sandy may be playing as a brother of Suriya's Rolex.
You may also like: Leo & 4 Other Films of Lokesh Kanagaraj; Cinematic Masterpieces of Indian Cinema 
2. Das Brothers:
Speaking of brothers, we have been introduced to Das brothers including Sanjay Dutt as Antony Das, Arjun as Harold Das and Thalapthy Vijay as Leo Das. Speculation is that these three characters are brothers and leading a drug world under the label 'Das & Co.' There is another interesting thing that Kaithi's Anbu Das (Arjun Das) and his elder brother Adaikalam may be connected to Das brothers in Leo.
3. The Character Connections (Bejoy and Napoleon):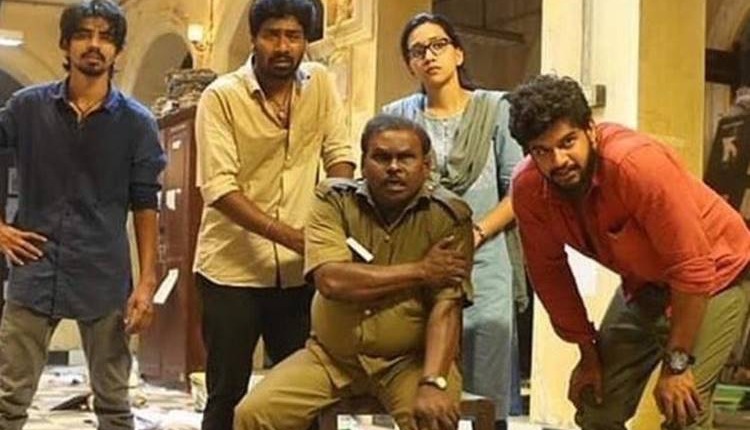 We, earlier, witnessed the character Bejoy (Played by Narain) being the connection between the worlds of Kaithi and Vikram. Similarly, the fans also smelled that the character, Napoleon (Played by George Maryan), may be the cop link between Kaithi and Leo. If this does work, then it will definitely fall under LCU.
4. Cameo Roles:
According to the recent speculation, Tollywood actor Ram Charan is a surprising cameo in Leo. As Harold Das's car registration number indicates Andhra Pradesh, there are certain sequences that may take place in Telugu state. So, we may expect a Telugu star in special appearance, as per the speculations. However, we knew that Suriya as Rolex, is a surprising cameo in Vikram with detailing arc. Lokesh Kanagraj's film is more sweeter with the cameos as he creates the connection through the character.
5. Kamal's Voice Over:
We did not expect the voice over of Kaithi's Dilli (Played by Karthi) towards the climax of Kamal's Vikram. So, there is this speculation going on that Kamal Haasan has done a voice over or may even appear as a surprising element. However, we have to find out on October 19th.
6. Udhayanidhi's Tweet:
With the recent tweet of Actor-Politician, Udhayanidhi Stalin, the fans have confirmed that Thalapathy Vijay-starrer Leo falls under LCU. He tweeted in the earlier hours of today, "Thalabathy @actoryvijay Anna's #Leo @Dir_Lokesh excellent filmmaking, @anirudhofficial music, @anbariv master @7screenstudio #LCU All the best team!" That's how his review read. This tweet of him using LCU with a wink makes the fans to speculate that Leo is a part of LCU.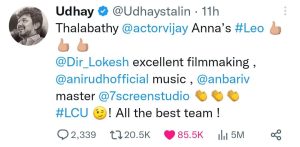 Though filmmaker Lokesh Kanagaraj makes it a difficult to figure out whether Leo is a part of LCU, we have debunked the top fans' theories and speculations. However, with the Udhayanidhi's tweet, the fans are even more hyped for the film. While the neighbour states, Kerala and Karnataka enjoy 4am shows, the first show of the film starts only at 9am in Tamil Nadu. Well, let's grab the tickets and find out what Lokesh has cooked for us!
We will be delighted to have your thoughts and feedback. Please write to us at [email protected]
Follow Life and Trendz on Instagram:https://www.instagram.com/lifeandtrendz/
Facebook: https://www.facebook.com/lifeandtrendz
Twitter: https://twitter.com/LifeandTrendz