Bollywood actress Parineeti Chopra and Politician Raghav Chadha from Aam Aadmi Party (AAP), took engagement vows in a secret ceremony on Saturday. They officially confirmed the persistent speculations about their connection. About 150 people, including members of the immediate family and notable politicians, attended the ceremony, which was joyfully and eagerly celebrated. Parineeti and Raghav took to Instagram to inform their followers of the news. Their very first engagement photos have become widely popular online. Naturally, many individuals are interested in re-creating Parineeti's elegant yet understated look. If you're one of them, keep reading on how to recreate Parineeti Chopra's minimal engagement look.
Let's take a closer look at her attire before we explain how you can copy her makeup for her engagement. Beautiful bride Parineeti Chopra chose not to wear bulky attire to her engagement ceremony. In its place, she chose a stunning ivory and rose-pink kurta combination created by Manish Malhotra, a well-known fashion icon. Tone-on-tone needlework and pearl accents graced the costume, which was made of a beautiful shade of ivory and rose pink. Her gorgeous dupatta, made with Kashmiri thread work, offered an additional touch of elegance.
Her uncut jewellery set, which was the focal point of her look, completed everything. She accessorized her stunning look with a pair of polki and maang tikka earrings that were both heavily embellished. Of course, Parineeti's exquisite engagement ring was the cherry on top, adding even more allure to her images from the ceremony.
Raghav Chada, her charming future husband, made a thoughtful choice of attire for the nuptials. He selected a genuine khadi silk achkan in the colour ivory. The outfit was created by designer Pawan Sachdeva, who is also his maternal uncle and was worn with ivory trousers and a matching kurta. It was the ideal fusion of old and new. Raghav's frame was perfectly accommodated by the superb tailoring of the achkan. A further touch of refinement was provided by the kurta's elaborate workmanship. His achkan looked stunning with his ivory trousers, giving him a polished appearance that radiated charm and grace. We admired the simple design of the couple's matching attire as they celebrated their engagement.
Let's take a look at how you may replicate Parineeti's engagement makeup look.
You may also like: South Indian Divas who nail minimal-fashion-look
How to Recreate Parineeti Chopra's Engagement Look: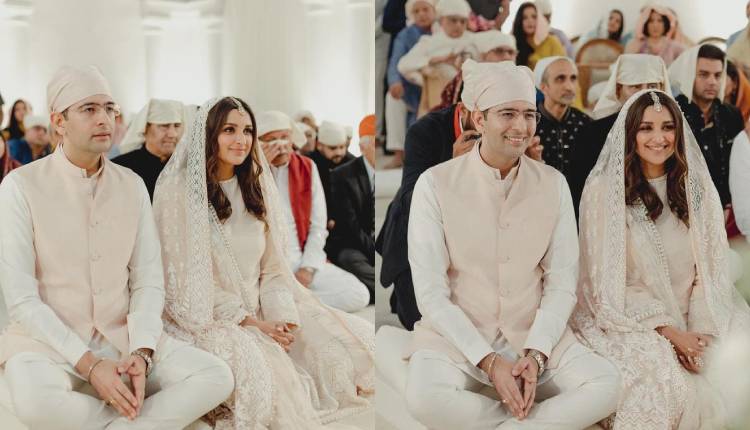 The makeup on Parineeti was traditional and natural. Her complexion had a slight shine and was primarily matte. She also had smoky, yet delicately defined eyes with kohl and a hint of bronze shimmer. She looked even more radiant because of the light pink makeup on her lips and cheeks.
* Start by following your regular CTM process to recreate her engagement makeup look. After that, go ahead and apply the best sunscreen for glowing skin. There are particular sunscreens on the market that improve your radiance. So you can try one of them when you're replicating this engagement look.
* After you've finished preparing your skin, apply your go-to full-coverage foundation that will last all day. Furthermore, keep in mind that when it comes to foundation, less is always more. It is never advisable to overuse it. Always start small, and if necessary, add more if you feel that some regions require it.
* Naturally, concealer is the next step. You should use a serum-based concealer with hydraulic acid if you can. With that kind of concealer, it will ensure that your skin is moisturised. It will also be beneficial to keep your base undamaged. Apply concealer lightly as well. All the dark regions on your face only need one spot.
* Once you've completed the basic phases we'll move on to eye makeup. Start by using an eyebrow brush to precisely shape your brows. Next, let's look at Parineeti's stunning bronze eye makeup from her engagement photos.
* The La Mior Quad Eyeshadow Palette is what you need to duplicate Parineeti's exact bronze eye makeup. You may flawlessly recreate her beautiful look with the Daffodil Sunset. The matte brown eyeshadow should be used as a base, while the bronze shimmer eyeshadow should be added on top.
* The next step is to give your lash lines more definition. Get an eyeliner that is comfortable for you and that fits best for you. It's critical that your eyeliner not interfere with your vision.
* Don't forget to wear mascara after that. It's ideal to pick a mascara that will make your lashes appear thick and full. If you want to be certain of that, use two coats.
* Your cheekbones and lips will get the last few touches. Pick a product that you can apply to your lips and use as a blush. Parineeti's lips and cheeks were peachy, so use that shading to achieve similar effects.
And that's it! Are you trying Parineeti Chopra's engagement look or not? Let us know!
We will be delighted to have your thoughts and feedback. Please write to us at [email protected]
Follow Life and Trendz on Instagram:https://www.instagram.com/lifeandtrendz/
Facebook: https://www.facebook.com/lifeandtrendz
Twitter: https://twitter.com/LifeandTrendz