Prime Video Launches a Hilarious Trailer of Rahul Subramanian's Crowdwork Special 'Rahul Talks to People'; set to Globally Premiere on March 30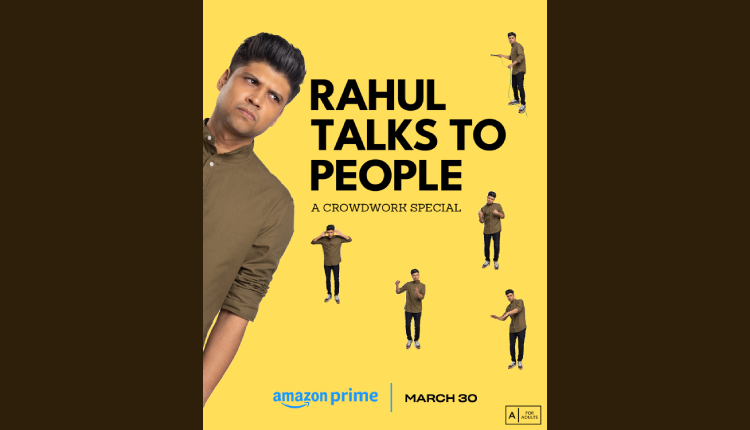 Prime Video today unveiled the rib-tickling trailer of its upcoming crowdwork special Rahul Talks to People, featuring one of the most popular comedians in the country, Rahul Subramanian. For the first-time ever, the 1-hour special features Rahul Subramanian performing one of his well-loved and enjoyed comedy formats – Crowdwork – a spontaneous and impromptu interaction with audiences in Chennai, Bengaluru, Delhi, Kolkata, and Mumbai. Produced by OML and directed by Biswa Kalyan Rath, the crowdwork special Rahul Talks to People will be available from March 30 on Prime Video in India and over 240 countries and territories worldwide.
In Rahul Talks to People, the stand-up comic will be seen engaging in unscripted and unrehearsed conversations with 6 different set of audiences across 5 cities – capturing a range of people from a marketing professional to a bunch of friends. And with his sharp sense of humor, ability to be extempore and instant improvisations, Rahul turns these ordinary conversations like stressful jobs, technology, corporate culture, cricket umpiring, marketing, and more into a laugh-a-riot not just for the live audiences but also the viewers.
"I am extremely excited (and nervous) to be bringing my Crowdwork Special to streaming audiences across the world, through Prime Video. I enjoy this format a lot, as it requires both the audience as well as myself to be present and in-the-moment, all the time. The experience of starting from nothing and seeing a joke/funny moment get built from scratch is a fulfilling experience. I really-really hope when people watch this online, they have as much fun as we had in the live shows," says the popular comedian Rahul Subramanian about his crowdwork special. "Unlike the classical stand-up routine, Crowdwork is different as it is completely unscripted and depends heavily on the comedian's ability to connect with the audience members and find humour on the fly. The unpredictability of the format is what makes it extremely exciting, and challenging. The good thing is we have already done the tough part, and are very pleased with the outcome. Now I am just looking forward to taking this show to a wider audience and (hopefully) make them laugh too."
Produced by OML and directed by Biswa Kalyan Rath, Rahul Talks To People will exclusively premiere on Prime Video from 30 March, 2023 in India and over 240 countries and territories worldwide.
Link to the trailer: https://youtu.be/gMs8Kr2sQ5M