Into the Finals: Highlights of India Vs New Zealand, World Cup Semi-final
India won against New Zealand by 70 runs in the World Cup Semi-final match.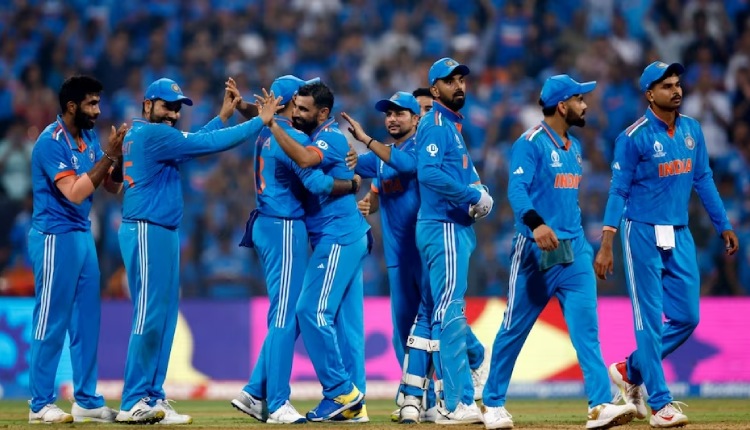 Watching the highlights of India Vs New Zealand? Well, we covered up a few for you. India defeated New Zealand by 70 runs and marched into the finals of World Cup 2023. Team India will battle against either South Africa or Australia in the finals of ICC Men's ODI World Cup. The team in its sensational form, gives enough hope to the country and its fans. India, who first batted, scored 397 runs in 50 overs and won against New Zealand by 327 runs in 48.5 overs. Let's check out the highlights of India Vs New Zealand Semi-final match that happened yesterday at Wankhede stadium.
Highlights of India Vs New Zealand Semi-final Match:
Virat Kohli's 50th ODI Century:
Hailed as King Kohli, Virat, in his outstanding form, hit his 50th ODI century yesterday at the semi-final match against New Zealand. He surpassed the record of legendary cricketer, Sachin Tendulkar. Meanwhile, Sachin, himself, hugged Virat at the end of the innings.
Tendulkar also tweeted, "The first time I met you in the Indian dressing room, you were pranked by other teammates into touching my feet. I couldn't stop laughing that day. But soon, you touched my heart with your passion and skill. I am so happy that that young boy has grown into a 'Virat' player.
I couldn't be happier that an Indian broke my record. And to do it on the biggest stage – in the World Cup Semi-final – and at my home ground is the icing on the cake."
Mohammed Shami's Spectacular 7 Wickets:
If Virat Kohli (117) and Shreyas Iyer's (105) fabulous innings succoured the team, then it was Shami's bowling skills that derailed New Zealand from the World Cup tournament. He took the wickets of the openers – Conway and Ravindra of the opponent team. Then, fell the wickets of Captain Willaimson and Latham. Mitchelle, then, fell into the bowling trap of Shami. Then, he took Southee and Bolt, thereby making India the first team to enter the finals.
Tendulkar also wrote, "What a Shami-final!!! Well done India for a superb batting display and a spectacular bowling performance to get into the final." Shami also won the Man of the Match for his superlative bowling.
Top Stars at the Stadium:
Indeed, Mumbai is the City of Dreams. There were top stars presented at the stadium yesterday. From Former Footballer David Beckham to Superstar Rajinikanth, it was stars assemblance at the stadium to cheer the MEN IN BLUE.
India Vs New Zealand's World Cup Semi-final was an outstanding one in the tournament. Apart from Virat and Shami, it was Captain Rohit Sharma, who should be applauded for his leadership qualities. On marching towards the finals, let's hope for the best!
We will be delighted to have your thoughts and feedback. Please write to us at [email protected]
Follow Life and Trendz on Instagram:https://www.instagram.com/lifeandtrendz/
Facebook: https://www.facebook.com/lifeandtrendz
Twitter: https://twitter.com/LifeandTrendz