In the month of March, people around the world celebrate Holi, also called the festival of colours, with great happiness. The festival marks the start of early summer, the flourishing of love, the mingling of social groups in the population, and a chance to mend rifts in bonds. You may already be aware that no Indian celebration is complete without delicious food, and Holi is no exception. You should try some of the delectable dishes, sweets, and beverages that are popular during Holi. If you aren't celebrating Holi with your family or friends this year, here are some of the best Holi foods you should try to make at home to treat yourself.
Traditional Holi Foods to Prepare at Home:
Barfi
When we suggest "barfi," we mean that there is a tonne of different ingredients you can experiment with to create a tonne of different varieties! Condensed milk and dry fruits can be used to make barfi. Don't fret if you don't like dry fruits. You can turn to coconut barfi and perhaps even besan barfi for assistance. In truth, you can make barfi with any combination of ingredients you like, including chocolate or carrot. However, we'll personally recommend making kaju barfi for this Holi. Create a kaju paste, roast it with sugar over low heat, and then slice it into barfi shapes. You'll have a great time making and wolfing down this traditional Holi food, which is fairly simple.
You may also like: 5 Tasty Lassi Recipes: Ways to Binge Your Lassi 
Gujiya
Because it is a traditional dish served at the Holi festival, it must be among the very first things that come to mind. Take a bite of the sweet stuffing and crunchy shell, and your palate will be overjoyed. Gujiyas can be purchased from sweet shops, but they are also very simple to make at home if you prefer. First, combine flour and water to make a dough. Create a stuffing by combining coconut, sugar or jaggery, dry fruits, along with some cardamom. When the stuffing is prepared, stretch out the flour in small circles, stuff them, and then sculpt them. Simply deep fry them now, and perhaps even bake them to please your health-conscious self. Enjoy some delectable gujiyas now!
Dahi Vada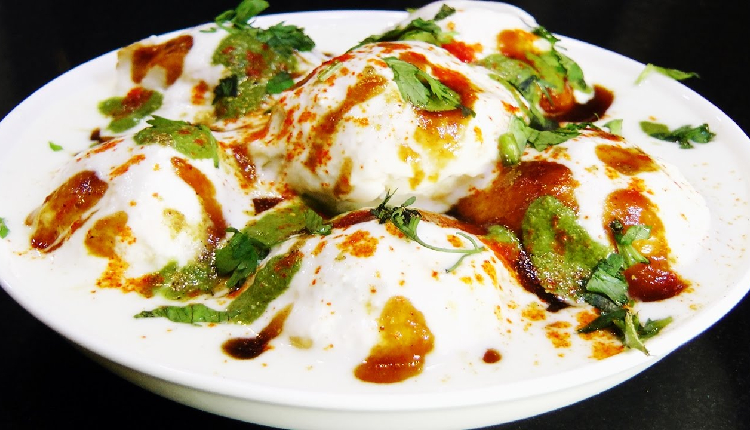 The dish's two main ingredients are dahi (curd) and vada, as the name would imply. A warming dish is made by combining both of these ingredients and finishing it with herbs and sweet-and-sour chutneys. It is one of the most-liked dishes during the Holi celebrations which is also known as Dahi bhalla. The dish is thought to have originated in Bengal, Delhi, or Uttar Pradesh, depending on who you ask. For Dahi Vada, soak urad dal (black gram) for 24 hrs, then blend with some salt to create a mixture before deep-frying. The plating stage is when the magic really happens. Pick up a serving plate, arrange a few Vada pieces on it, and then add dahi, spices, & your favourite chutney.
Ladoos
Most frequently, laddoos tend to be the initial Indian dessert that comes to your thoughts when you think of sweets. The list of variations is endless and includes besan, motichur, til, and boondi. During Holi, this sweets in the shape of a ball play an important role. In fact, Laddu Mar Holi is celebrated in the Uttar Pradesh town of Barsana, where participants sing, dance, and fling laddoos at one another, which are then eaten as prasad. Imagine for a moment how that must feel. Laddoos are relatively simple to make, but if you really don't want to make more than one sweet and have already decided on one, you might as well order some laddoos to satisfy your sweet tooth.
Murukku
They say it's almost always nice to wrap things up with something sweet. However, we won't do that here. All of the delectable sweet dishes have already been mentioned; now we need something spiced. And for that reason, the savoury snack known as murukku serves as the last item on this lineup of traditional Holi foods. The word "murukku" means "twisted" in Tamil. This snack's name is derived from its twisted structure and attempting to make it is not difficult. You simply need to combine salt, urad dal, carom seeds, asafetida, and chilli powder to start making a dough. When it comes to moulding the dough, murukku makers seem to be easily accessible in the marketplace. Use a piping bag instead of a murukku maker if you prefer.
You just need to pipe the dough in oil in round shapes and deep fry them until brown. Once it's cooled down, you can store it for a long time and eat it as a snack whenever and wherever you want.
We will be delighted to have your thoughts and feedback. Please write to us at [email protected]
Follow Life and Trendz on Instagram: https://instagram.com/lifeandtrendz?igshid=Yzg5MTU1MDY=
Facebook: https://www.facebook.com/lifeandtrendz
Twitter: https://twitter.com/LifeandTrendz