"Motherhood is the most fulfilling job in the world", says Mrs. Rebecca M. Fernandes, Founder of Rainbow Hues: Mother's Day Edition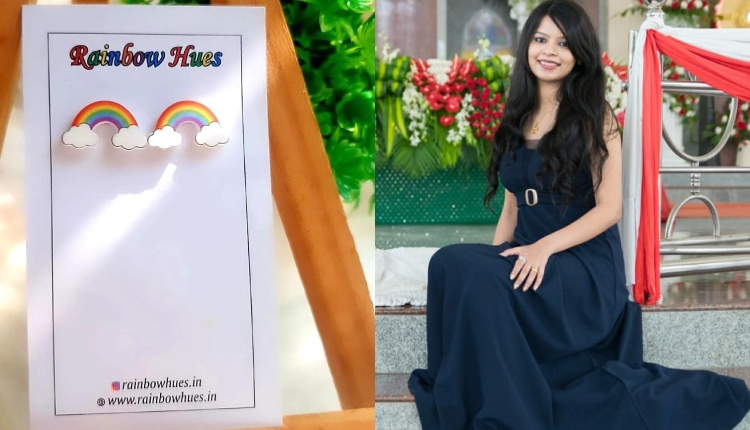 A side hustle is an essential one in the present competitive world. While it is hard to balance both the work and mother duties, especially when you have a toddler, we have Mrs. Rebecca M. Fernandes, the brain behind Rainbow Hues, who manages all. She is a full-time PR as well as running a chick jewellery and accessories business. She shows that a mother can do multi-tasking thereby balancing and managing things at home as well.
Rainbow Hues is a wonderland of chic jewellery and accessories. The brand offers a wide range of products ranging from Chic and Classy to Quirky all under one roof so there is something for everyone. The quirky, extremely light-weight acrylic products are a definite USP of the brand as it is something very different and unique and is being well received by customers Pan-India.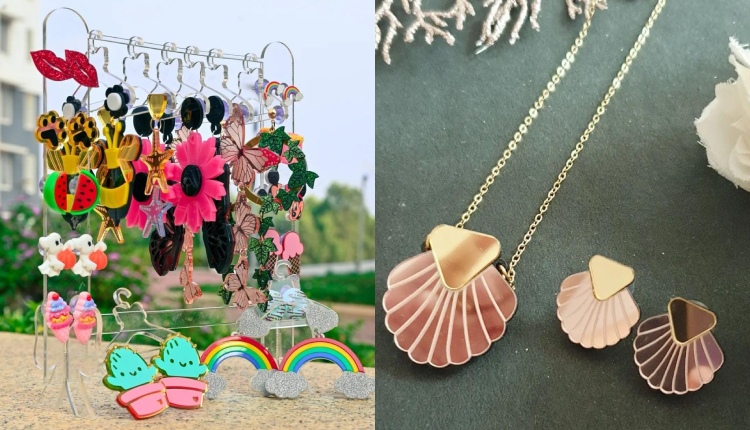 Within a year, Rainbow Hues is a star seller on Swiggy Minis and already has around 6200+ followers on Instagram and delivered 5000 orders.
On this Mother's Day, we introduce you to Mrs. Rebecca M. Fernandes, Founder of Rainbow Hues, a Mom and a PR.
Excerpts from the interview with Lifeandtrendz.com
How did you decide to establish 'Rainbow Hues'?
When I delivered my son, I hardly got much sleep and spent many sleepless nights thinking about various topics including how to raise more money now that I have a baby. It was then that I realized that I could turn my passion for jewellery and accessories into a business and so I started Rainbow Hues.
It's been a year since Rainbow Hues has been started. How have your priorities changed from when you first began?
When I first started Rainbow Hues, I had no expectations, but only hopes. I hoped that people would like the designs, I hoped that people would be open to trying something new and I most of all hoped that I'd be able to manage the business alongside my job and looking after my baby. To my surprise, the response was just overwhelming with so many people ordering! It was way more than I expected so now my focus is on streamlining the business to meet the growing demands and requirements.
What made you jump specifically into trendy jewellery and accessory business while you are a PR already?
I am a PR Professional who has loved jewellery and accessories right from the time I was a child and I have collected 100rs of earrings, necklaces, bracelets etc. I still have the ones my mother bought me when I was little. Going to fairs and exhibitions and buying unique jewellery has always been a passion. However, the trigger for me starting the business was when my son was born, I wanted to do so much for him. I wanted to give him the best life I could possibly give him which all required more funds. It was then that the idea struck me and I started Rainbow Hues.
What makes 'Rainbow Hues' unique?
Rainbow Hues has a mix of classy as well as fun and quirky products. One of the USPs of the brand is the lightweight acrylic products which are loved by people across India as it is something different and a lot of fun! The quirky products do really well especially during themed occasions like Valentines Day, Holi, Christmas etc. For example, people love flaunting the Pichkari or Gulal Matka Earrings during Holi and the Christmas Tree or Santa Earrings during the Christmas season. Glossy, mirror finish butterflies and pretty flowers etc. are a hit all through the year.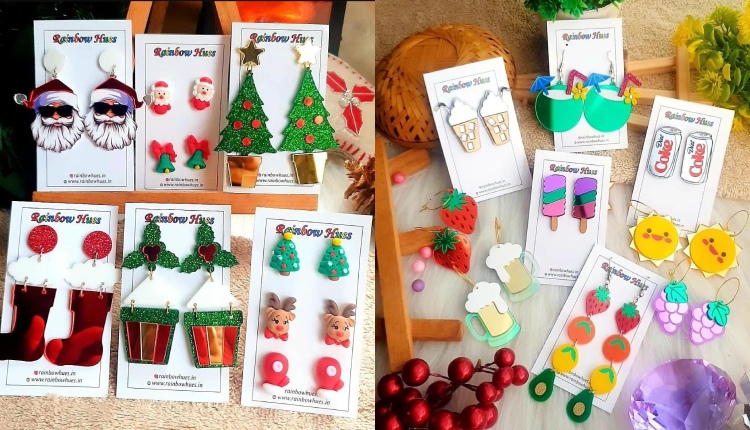 How did you feel about Rainbow Hues been well-received by the customers Pan-India and being a Star Seller on Swiggy Minis?
This was something I really didn't expect. I just registered the brand on Minis and from then on the love just kept pouring in! It really does feel great when your work is loved, appreciated and makes people smile.
Check out the wonderland of Rainbow Hues: https://www.instagram.com/rainbowhues.in/
Do you design all the earrings by yourself? / Is there anyone else who assist you?
Yes, most of the products are designed in-house. My husband and father are a great support and play a major role in supporting me and the business. It has also happened that people have shared an idea or design, which I then post on Instagram and if others love it too, it is officially launched for everyone.
Is there anything you feel now that you could have done differently when starting up your business?
Looking back over the last year, I feel I should have started the option of cash on delivery (COD) sooner as many people prefer cash on delivery as a payment option instead of online payments.
Tell us about your maternity period. What were you doing and how did you manage your work?
I worked my regular PR job till the day I got ready to go to work as usual but ended up being rushed to the labour room to deliver my baby. Post delivering my baby too I worked from home.
As of now, how are you managing your business, PR work and Mom duties?
This is very challenging but fulfilling. I work my regular PR job on the weekdays and create content for my business over the weekend. Each night I take out all the orders and my father packs them and gets them all ready while I'm at work. He also looks after my baby till lunch time post which I rush home and feed my baby and put him to sleep and get back to work online and finish the rest of my work. Meanwhile my husband manages all the order bookings. It's team work!
How hard it is to leave your toddler for work?
It is one of the hardest things to do and makes me feel really guilty each day. I feel really bad sneaking out while my baby is occupied. But I make it a point to spend time with him every evening and night. We do educational tasks together, watch some TV and spend quality time together before bedtime.
Who is your major support system?
My 1.5 year old son, as it would not have even occurred to me to follow my dream if it wasn't for him. My husband for believing in my dream and supporting my idea from day one and my father who works tirelessly with the business and baby each day so that I can complete all my tasks.
Without their support I would not have been able to manage looking after a baby, working and running a business.
What will be the one thing you wish to say to your fellow supermoms?
Motherhood is tough, it is challenging but at the same time it is the most fulfilling job in the world. Whether working or a stay-at-home mom, always remember that as a mother you are doing your absolute best to look after your little masterpiece and are working really hard. Don't let anyone put you down or make you feel that you aren't doing enough because you're doing enough and more. You can always still follow your dreams and passion and to your surprise, you will realize that your love for your baby will be your biggest strength and motivation to achieve the otherwise impossible.
You may also like: Meet Mrs. Amshatha Rajkumar, a Self-taught Home Baker from Tirunelveli on this Mother's Day
We will be delighted to have your thoughts and feedback. Please write to us at [email protected]
Follow Life and Trendz on Instagram:https://www.instagram.com/lifeandtrendz/
Facebook: https://www.facebook.com/lifeandtrendz
Twitter: https://twitter.com/LifeandTrendz