It's the most delightful time of the year, which undoubtedly means that party season is here as well! We assume that by now you have begun or even completed your Christmas decorating. So let's focus on the type of winter parties you'll throw today. We have you covered if you have activities scheduled all winter long for any number of reasons. Let's look at some of the best winter parties you should enjoy with your loved ones.
Best winter party ideas:
Winter party ideas: Cooking Party
It all revolves around having a cooking party. A great method to interact socially and connect with others is over food. You can't be sure what to grab because there are so many mouth-watering options. A winter cooking party can include the following activities:
Consider preparing a classic Christmas feast. You'll be set to go if you assign one typical dish to each visitor to prepare. Prepare supplies for traditional Christmas activities, decorate the area, and also play All I Want for Christmas Is You in the background. If you're throwing an international party, encourage each attendee to bring something typical from their home country.
You may also like: 5 Things to do in Winter
Winter party ideas: Winter Wonderland
A winter wonderland-styled party is impossible to go wrong with. Make paper crafts, decorate the tree, hang them from the ceiling, and play holiday music. Once you've finished, dangle the lights and enjoy their enchanting glow. How do you like the sound of fake snow? The fake version is not that horrible if you live somewhere without snow. You could also try to adorn the room with silver, white, and blue accents or lean toward the reds and greens while using this concept. Moreover, you can buy ice sculptures and get ready for sleigh rides if you'd like to go all out this year. The options are endless!
Winter party ideas: Winter Picnic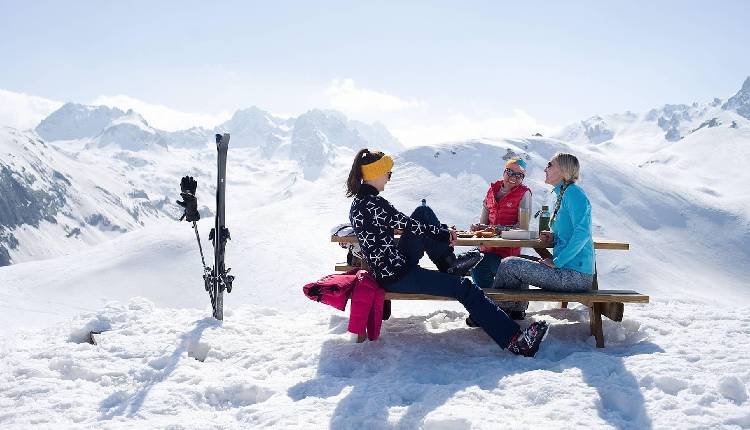 There is nothing more refreshing than the brisk cold wind. A picnic can be the finishing touch to a fun winter concept event. Being in nature has a way of calming people down and making social gatherings more enjoyable. Although it may be freezing, your winter picnic promises to be a nice get-together with toasty blankets as well as warming food. In this winter picnic party, prepare bowls of warm soups, flaky pastries, tabletop s'mores, and flavoured hot cocoa for your guests. Red plaid tablecloths, vibrant bench cushions, as well as some blankets, in case it gets cold, can be used to spruce up the picnic area.
Winter party ideas: Santa Claus
Santa Claus must be among the first images that come to mind while considering Christmas. Only during that time of year does he truly have his moment to shine. What, though, could you create with a Santa-themed idea? Apparently, there seem to be quite a few stuff:
Everyone enjoys the Christmas game known as "secret Santa," so you might play it at your Santa party. What about getting dressed up as Santa Claus if that sounds too simple and uninteresting? All the neighbourhood kids will be thrilled if every one of your visitors dresses up as their own version of Santa Claus!
Winter party ideas: New Year
The festive season overwhelms everybody. Why not hold a winter-themed event, like the New Year, rather than hosting a party in December? People then are ready to start a brand-new routine, eat healthfully, and make big goals. Setting an upbeat attitude for the upcoming 365 days by inviting guests to a gathering where they may meet up with friends, colleagues, and family, eat delicious, healthy cuisine, and simply relax into the new year. You can set up a balanced food station with dishes like fruit salads, whole grain waffles, smoothies, and other delectable dishes that are also nutritious. Additionally, since the subject is the new year, using standard new year decor will do.
Winter party ideas: Fancy Dress
It's time to think of certain celebrations and make it a time to appreciate them because both you and your attendees are sure to have a great time! Get dressed up, snap some photos, and get ready to have a great time. If you're set on hosting a fancy dress party, the Masquerade Ball, Pyjama Party, and Hollywood Red Carpet are some of the best themes to choose from.
For the Masquerade Ball:
Exotic masks, glamorous outfits and dresses, and maybe cocktails? Bring out your finest attire and sparkle like a diamond at the ball this year. A mask and a beautiful robe look excellent in the winter. Bonus point: organise a costume competition to liven up the occasion.
For the pyjama party:
You can always host a great pyjama party, buy snacks, sip hot chocolate, and watch a fantastic movie if you feel like sticking in your pyjamas.
For the Hollywood Red Carpet:
Do you want to dress up but not essentially in costumes? A red carpet-party in Hollywood is one to behold. Throw on your most pricey gown, perform on a runway, and be ready to party all night long. You'll be the most significant star on this night!
We will be delighted to have your thoughts and feedback. Please write to us at [email protected]
Follow Life and Trendz on Instagram: https://www.instagram.com/lifeandtrendz_com/
Facebook: https://www.facebook.com/lifeandtrendz
Twitter: https://twitter.com/LifeandTrendz