Otherwise known as Veerabhadra temple, Lepakshi Temple is a stunning temple of the 16th century. Situated in the historical essence filled hamlet of Lepakshi in the Anantapur District of Andhra Pradesh, the temple was built in the amazing style of Vijayanagara architecture. The temple has been inhabited by several magnificent sculptures of God, Goddesses, amazing ancient dancers and musicians and mesmerizing wall paintings and ceiling manifesting the stories of epic Mahabharata,  Ramayana, and Puranas as well. Apart from this, there is also a large idol of Nandi, the bull in front of the temple, which is chiseled from a single block of stone.
Still what makes it interesting? The temple has been incorporated with 70 stone pillars and there is one that hangs from the ceiling. The foot of the pillar does not touch the ground and even a thin sheet of paper or a piece of cloth from one side to the other side. It is considered that when a British engineer tried to move the pillar in an inefficacious attempt to disclose the secret of its support, the pillar is little displaced from its original position. Howbeit, Veerabhadra temple was built during the reign of King Achutaraya by the brothers Viranna and Virupanna, who were under the Vijayanagar Empire. This has been considered to be one of the wonders of India.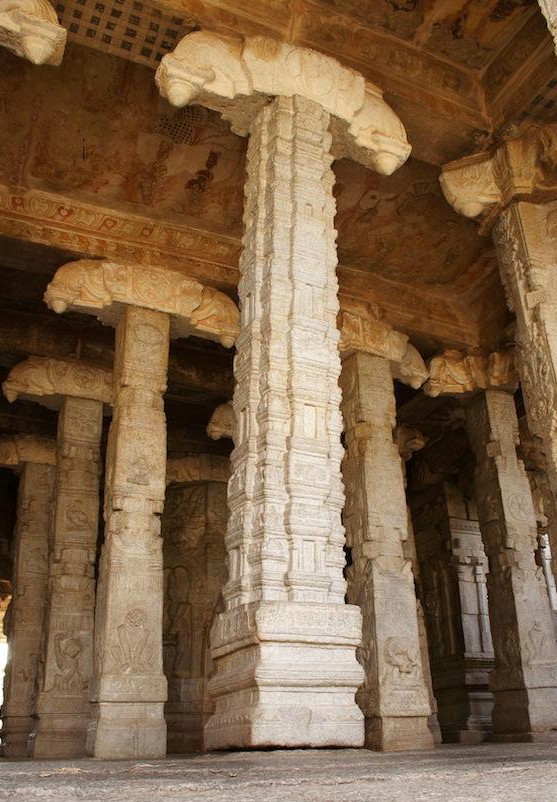 Some might think that it has anti-gravity or levitation but the background story of the British engineer's failed attempt. However, the small village possesses a remarkable place in the great Indian epic Ramayana. The bird Jatayu was wounded by the king of Lanka, Ravana, had hit the ground right here after a thwarted battle against the King who carried Sita, the wife of the king of Ayodha, Rama. Later, Rama spotted the bird and said "Le Pakshi" in Telugu, which literally means "Arise bird".
Apart from the information, the name of the hanging pillar is Aakaasa Sthambha. All the pillars and walls of the temple are carved with the divine entities and 14 avatars of Shiva as well. Yet the Nandi idol is about 27 ft long and 15 ft rigid which is said to be the largest one in India. The temple is also inhabited with the idols of Ganesha, Nandi, Veerabhadra, Shiva, Bhadrakali, Vishnu and Lakshmi as well. The temple is open to worship from 6 AM to 6 PM every day and 7 AM to 7.30 AM is the Abishek timing. The temple is worthy to be explored and you would be inculcated with the historical knowledge.
We will be delighted to have your thoughts and feedback. Please write to us at [email protected]
Follow Life and Trendz on Instagram:https://www.instagram.com/lifeandtrendz/
Facebook: https://www.facebook.com/lifeandtrendz
Twitter: https://twitter.com/LifeandTrendz